First & Second Year Hospital Preparation Course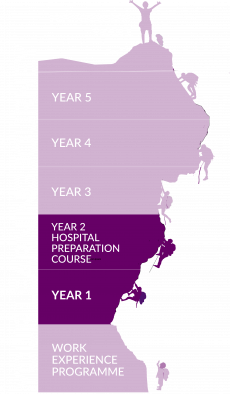 Third Year Students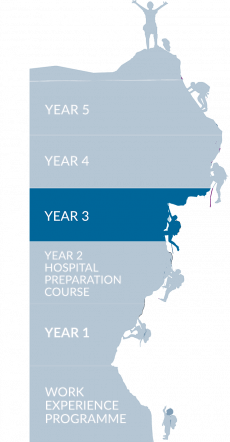 The third year programme is a broad based training programme for students in general medicine and surgical specialities, where they have the opportunity to learn history taking and diagnostic skills.
---
Student Timetables
The first three weeks of semester one provides students with an introductory period, during which they are on placement from Monday to Wednesday. During this time, the students' mandatory basic teaching sessions are prioritised. These range from clinical skills and resuscitation to introductory lectures. From week four, students are on placement Mondays to Thursdays, and their electronic timetables feature speciality teaching sessions and weekly bedside teaching from firm tutors and teachers. In addition to this, the medical school's Interactive Studies Unit visits the hospital and facilitates small group communication sessions over a two day period. These sessions assess and improve students' communication skills in varying clinical situations whilst on placement. Students are required to engage in a self-directed learning project (teamwork and leadership activity - TLA) which gives opportunities to study topics of interest in more depth. The project culminates in a presentation forum. The students are required to present in front of their firm and senior academy teacher at the end of the semester.
Fourth Year Students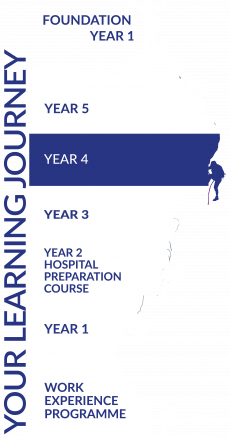 Fourth Year | Speciality Medicine (SPM)
This 18 week block is divided into two 9 week rotations. Each rotation consists of the following :
---
Speciality Medicine A
Cardiology
Elderly Care
Diabetes & Endocrinology
Ophthalmology
GUM
---
Speciality Medicine B
Respiratory
Gastro-Liver
Renal
Oncology
Dermatology
Fifth Year Students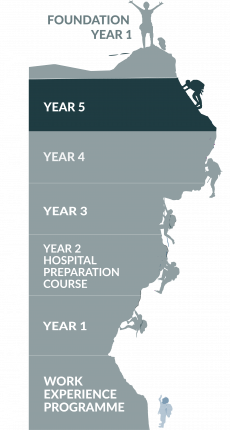 Fifth Year Programme
---
Selected Career Experience
This three week 'career experience' in July provides the opportunity for students to shadow medical staff from a specialty of interest, increasing their exposure to the clinical environment and gaining further experience in an area of particular interest.
Year 5 Assistantship
The student assistantship is designed to allow students the opportunity to gain a fuller appreciation of the role of a foundation doctor, and to enable them to focus on areas of personal practice that require improvement. This is a four week placement, allowing approximately 30 students the opportunity to shadow a foundation year one doctor prior to becoming foundation year doctors themselves.
Obstetrics/Gynaecology and Paediatrics
Students are offered a five week placement on each of the two areas. The consultants provide a specialty timetable for the students at the beginning of  the placement, designed to meet the curriculum outcomes. All students attend three 'Academic In Days' at the university throughout the five weeks.
Fifth Year OSCE Examinations
To reflect and support the new curriculum, the OSCEs are held at Russells Hall Hospital over four consecutive days each May.