Congratulations to our students who made it to the final round of this years Ron Grimley Memorial Awards. 
Since the introduction of the awards in 2006, 3rd year students are timetabled throughout the semester to present an interesting case from patients they have seen on the wards.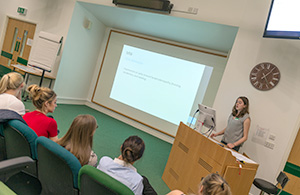 Each week a different firm of students compete against each other, with the remainder of students listening and voting for the best presentation. At the end of the two semesters every year, our teaching fellows select the 3 best presentations, making a total of 6 finalists.
Hannah Cooke delivering her case study presentation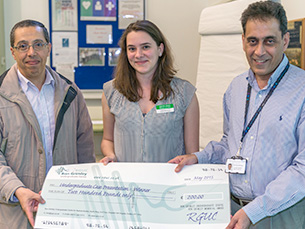 Dr Atef Michael and Mr Atiq Rehman present Hannah Cooke with her winners cheque

The finalists all presented their cases during a Grand Round to a judging panel and audience of medical professionals, who were free to ask questions after each presentation.After some deliberation and discussion between the judges, the winning prize of £200 was awarded to Hannah Cooke, with the runner up prize for £100 presented to Stephanie Brazil.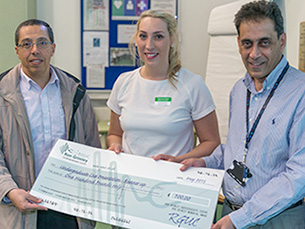 Dr Atef Michael and Mr Atiq Rehman present Stephanie Brazil with her runner up cheque
To view more information about other news events please visit – www.facebook.com/RGUCMS